Anoha PVE Guides
Game Overview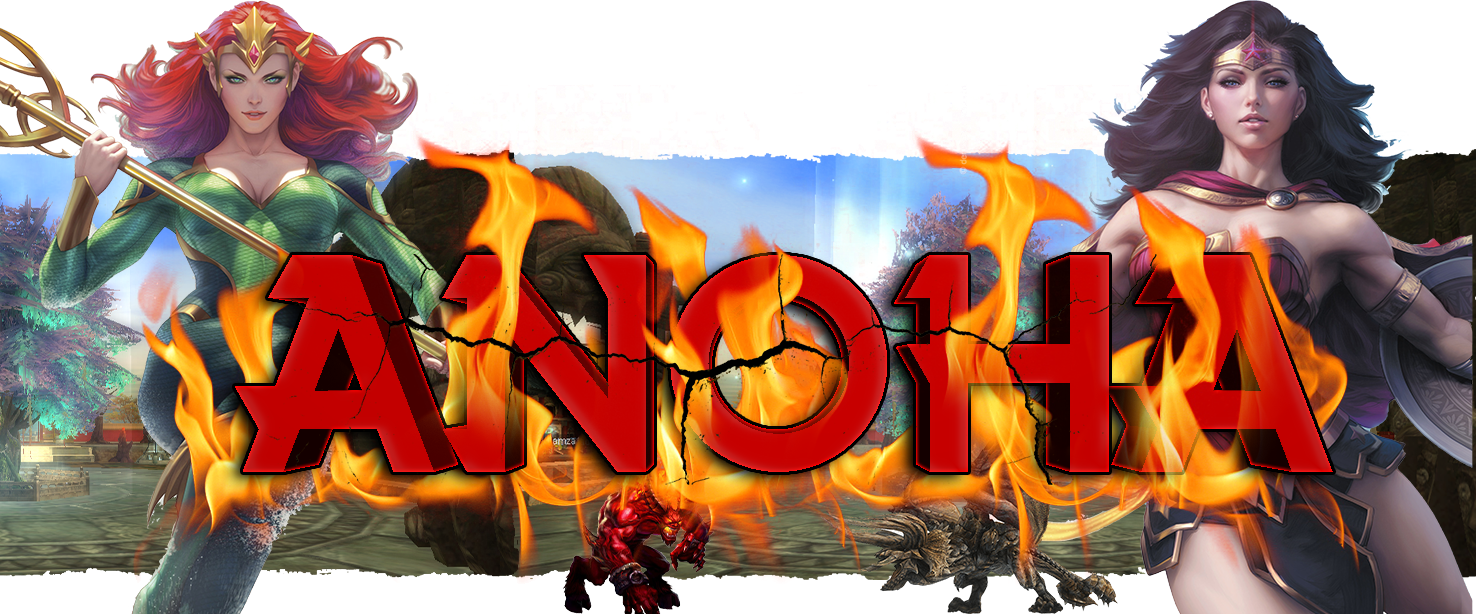 We have a new idea about cap 130 PVE server to introduce to you here. Some of you saw our old cap 130 PVP server and may know some of our features we had there. Here, we add those features and upgraded them to be suitable for our new 130 PVE server.
Our goal here to make you feel busy with fun any time you login.

We have made our own mBot, faster and stable than any bot.
You can get it from our download section at our website.
Our bot is totally free without any delay or ads.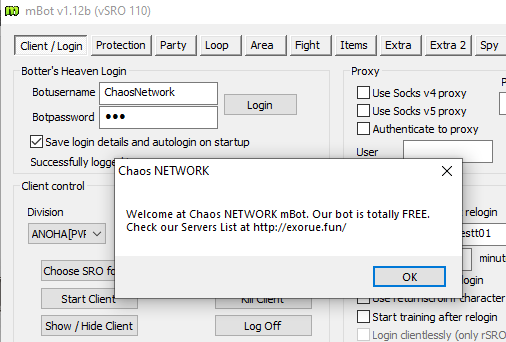 Enough talking lets get to the thread .Read it carefully please.


Well, as a new project we all know that bugs/issues may happen. So Beta phase helps us to collect all bugs/issues that all players found to fix it to start a clean server. And sure we need your help to test everything and try everything we made for free, then you can decide to stay with or not. And its important to me to give me your feedback about the game its completely free or not. OFC we'll make sure to reward you if you find bug, so don't worry we value your efforts!
BETA Phase Event:-
At beta phase, new chars will be created with lvl 125 and 5b gold to buy 12d items from the shop. And try all new features we have and give us your feedback.
So our event here is, reaching max lvl [130] within the beta time will be gifted at the Grant Opening [200 CS]. By that, you all will be useful to tell us about the EXP rate.

With your feedback and reporting issues/bugs can be found during Beta-Phase, we can fix those bugs and start our grand-opening and a new long-term server.




Join our Discord to check our latest [BOT]Activity feature, it give you anything happen inside the game and to be in touch with any event/system start in the game.
And it gives you a notice with any important things happens, such as unique appear - players globals - wars - GM/Team globals and notices..etc
With this feature, you'll not miss any fun happen in the game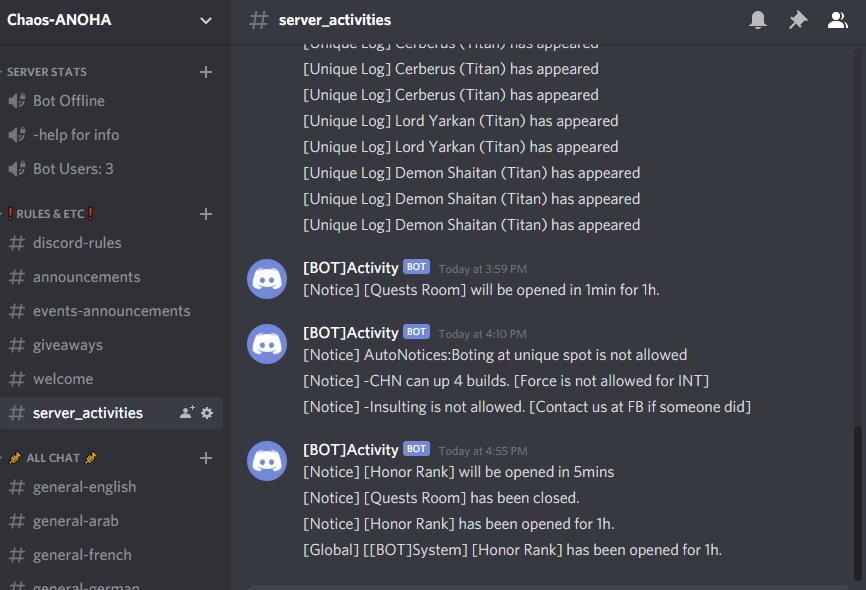 | | |
| --- | --- |
| Level Cap | 130 |
| Mastery Cap | 390 |
| Type | PVE |
| Rate | Medium |
| Union Limit | 2 |
| Guild Limit | 32 |
| Free Silk | 10 silk/h |
| Max Plus | 16 noAdv |
| Reborn System | Enabled |
| Fortress | Jangan |
| PC Limit | 8 |
| Job Limit | 1 |
| BA Limit | 1 |
| FW Limit | 1 |

Many servers based on the free silk. Every char created with tons of free F10 silk. And ofc F10 items is useless so there is no use for those free silks.
We made [B]silk/h system[/B] as a free gift for players who stay with us and active. And we didn't forget about F10 items. So those free silk are very useful here.
System: 10 silk every 1h starting from char lvl1.Active players only will get the silk.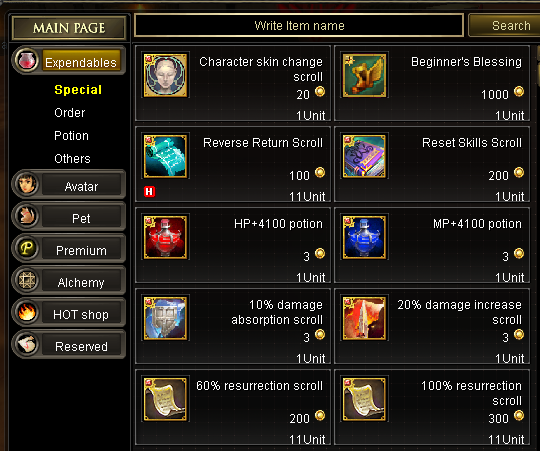 As we are a PVE system and you'll take a while to lvlup to the max lvl, the new character will be created with full set 1D+3 (61%). With beginner GodBlessing scroll, devil grade A, grap pet 3days and White Wolf as a gift.
Someone will ask, how can we get items when we lvlup!
ofc we didn't forget about Auto Equipment system, which help you till 10D. Check Auto Equipment section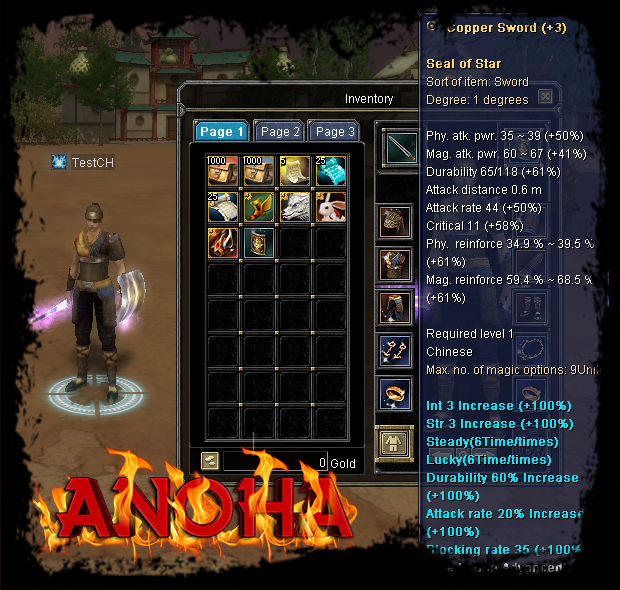 You guys will say cap 130 is very high and it'll be very hard to reach and so many degrees to get. But with auto equipment system, no worries here. You'll get your full items from 1D to 10D FB and +3 to help you with plvling cus the plvl thing is not the main fun at the game.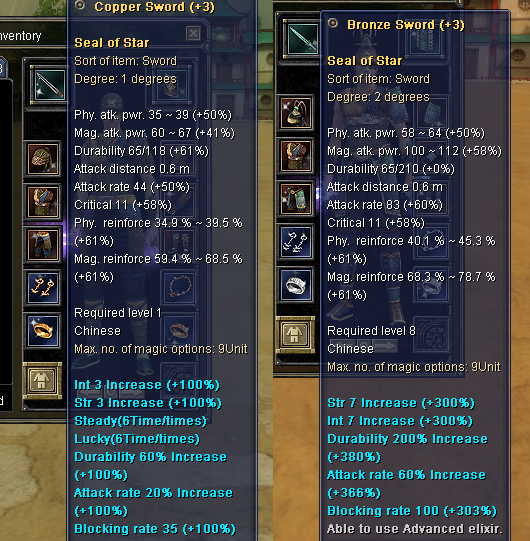 We have made it easier for you to get to the mobs area you want to plvl at. Check our [B]Mobs Gate[/B] for all mobs with their lvl.
Someone will say, it'll be boring. Bot for just plvling?
And we say, all mobs at any town drop coin name Play Coin.
This coin is very useful to get important items such as clock for pet and res for devil.
Drop rate is: 30% for each mob.
Lvlup Area [1~50]
Hotan mobs [52~80]
Roc Mt. mobs [70~90]
Samarkand mobs [91~99]
Alex mobs [100~110]
Jupiter [111~120]
Baghdad [121~125]
Sky Temple [126~130]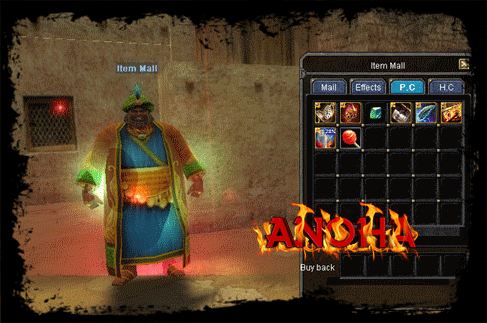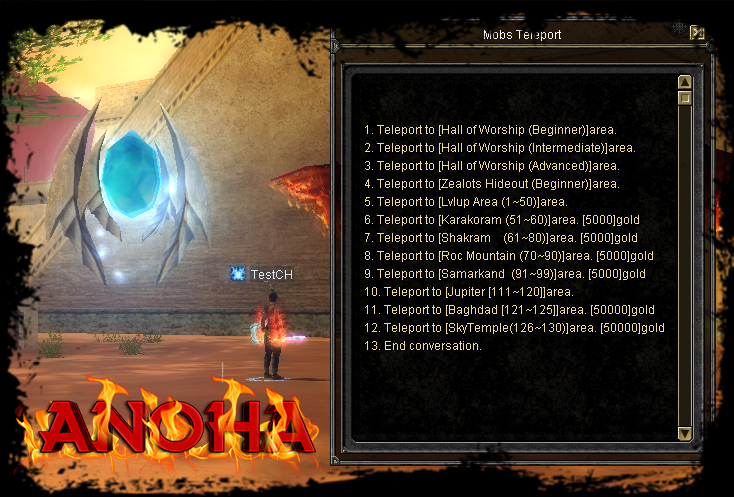 Battle Arena is one of the most fun system at sro. And we make it enjoyable with its reward.
Winners and losers will get Honor Coins as a gift. So don't wait and join Battle Arena and collect our donate coin for free.
Random+Party: Every 2h [20 HC winner - 10 loser]
Job: once/day 11PM [50 HC winner - 25 loser]

You all know about Reach Max lvl system, its about reaching the max lvl [130] and you'll get your reward.
But here we made it TWICE. Ya twice, that means we did 2 reach lvl systems to give you more coins.
1st Reach lvl 120 and get 150 CS.

2nd Reach lvl 130 and get 200 CS.


We have made a Showing room to check everything before buying from the shop and avoid wasting your coins.
The room have the new avatars, new pets and all 14d styles.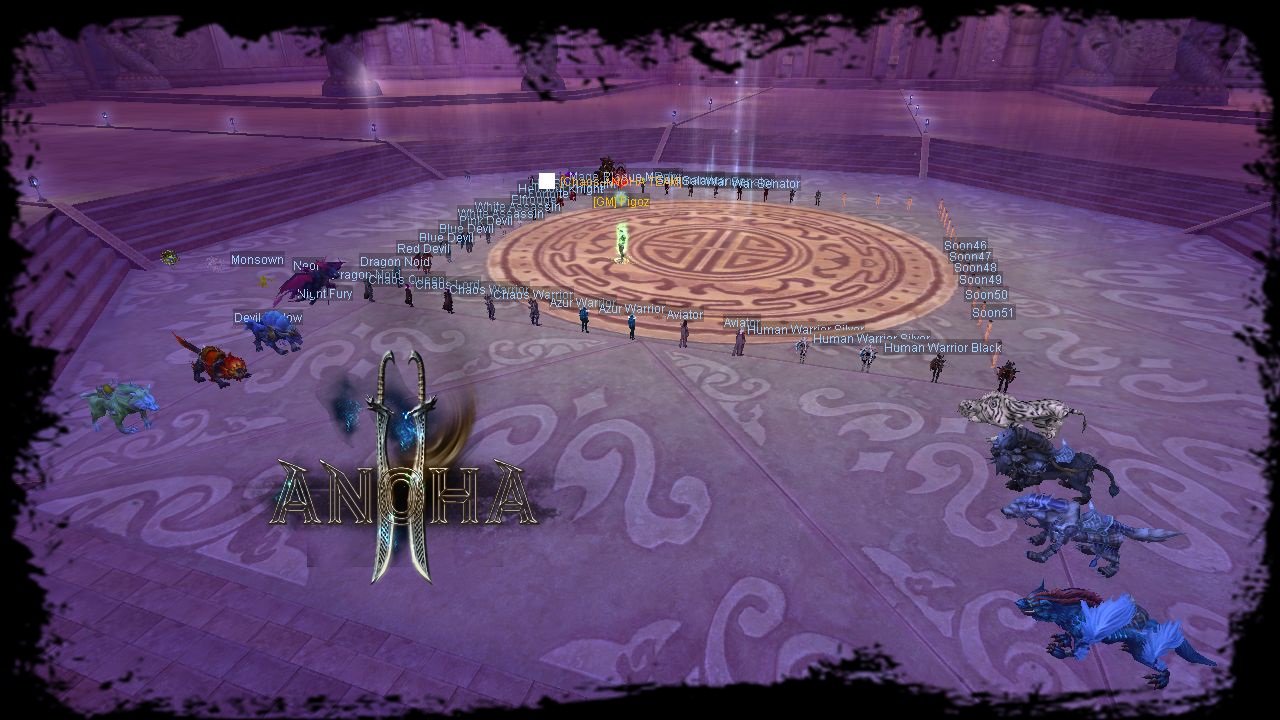 Sky temple inside have 4 different temples, at each temple have mobs above 125. And the temple is huge and you have many spots to bot at and avoid ksing from other players. And there is spots for 8/8 pts with high rate mobs.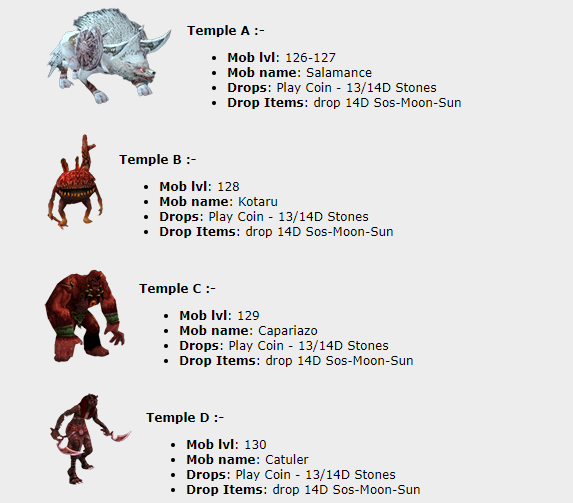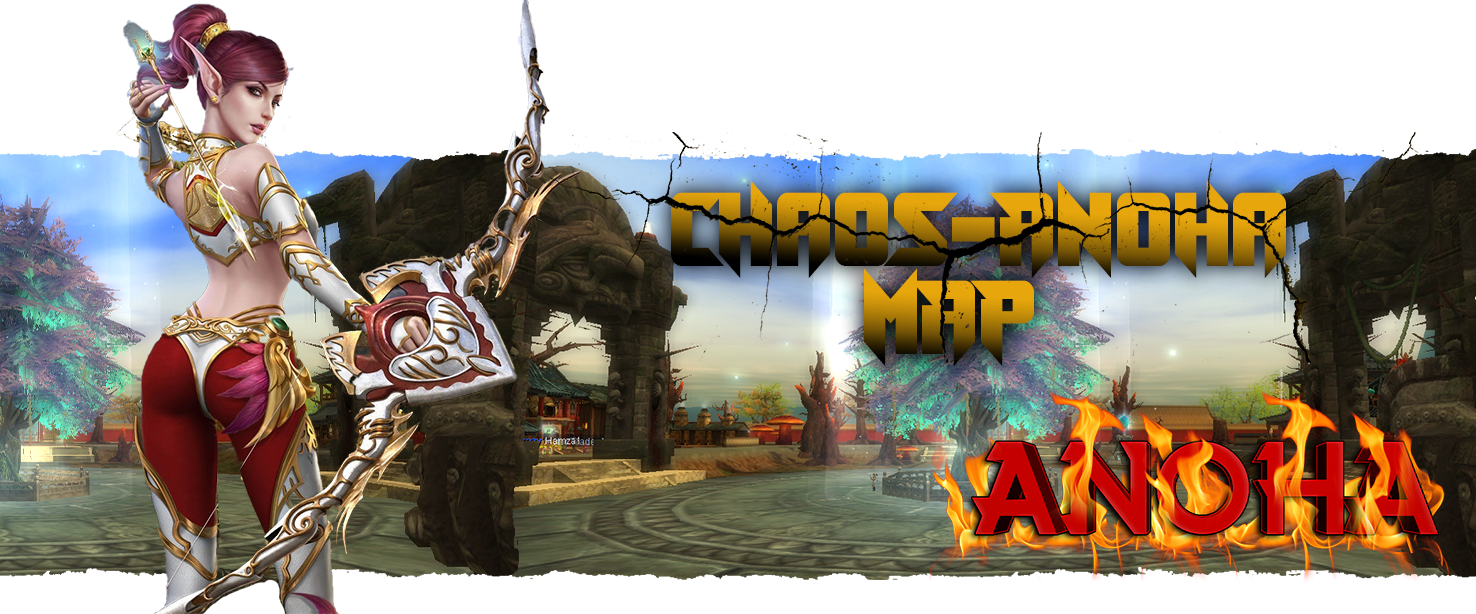 Well, we have edited our all MAP areas with all new unique inside every town. So everyone will know which unique appear and where, that'll be fair enough for all players new and old.
Lets check our map we hope you enjoy and like it.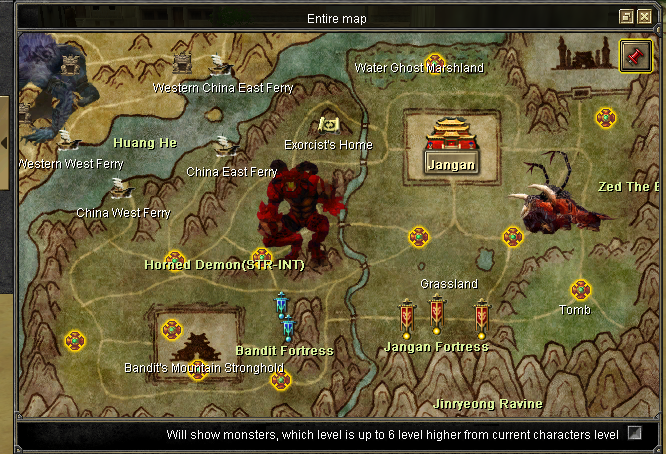 We introduce to you a new event we made it specially for you. [B]C H A O S[/B] letters.
Like old days, a GhostSung mob will appear randomly at the map 3 times per day. Each mob will drop 1 letter.
Collect them and win Prem, godbless, new devil...etc
Rewards:-

= VIP 20% premium as a reward.

= GodBlessing as a reward.

= New Advanced Devil as a reward.

= Package items (Vip Prem + gods + global color...etc) as a reward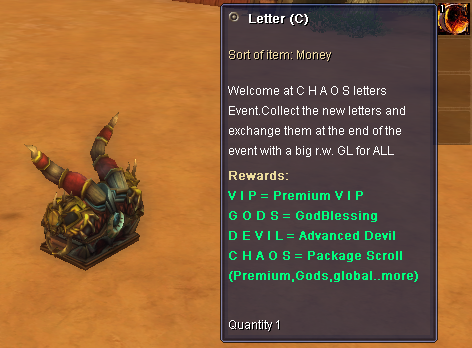 Cus of the gold will be very important same as our main coin, we made a new trade route with extra gold to help with collecting gold and get some fun with your friends.
Our Special Trade Route is a better way to get more gold and do caravans with your friends. So if you wanna be strong and get some fun everyday, just TRADE
Special trade route will be opened everyday for 1h, and the gold inside are much better than the normal route. So get ready for more fun and wars inside.
We have edited our map to make it easier for you to follow. Go inside and open the map and follow it.

Normal trade route:-
- Trade buy price : 120m[ 5 star ONLY]
- Trade sell price : 300m [ 5 star ONLY]
Special trade route:-
- From DW : 4x Gold
- From Jangan : 6x Gold
- Don't go alone it might be hard for you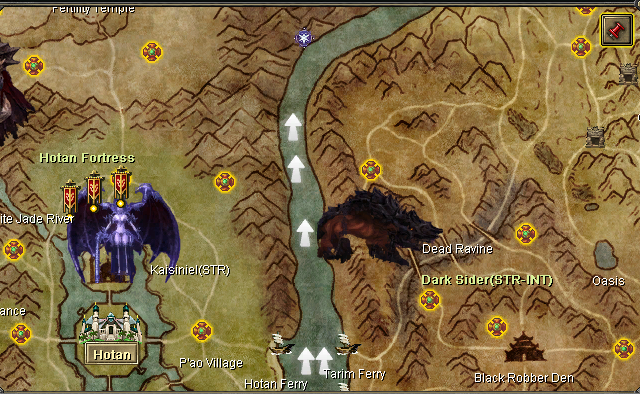 For unique lover, unique are very very important here. We have add our special new unique with good useful drops, so you gonna love searching for the unique and kill them with more fun.
Hint: new unique spawn places has been explained at CHAOS-ANOHA MAP section. Please check our gallery ??. Or just open the map (M) and you'll find them all.
We will explain our new unique drop :-
| | | | |
| --- | --- | --- | --- |
| Unique Image | Unique Name | Map | Drop |
| | Arch Angel (STR-INT) | Petra Desert | Drop Olive Global Color 2~5 every 1h |
| | Dark Shinm (STR-INT) | Hotan-Karakoram | Drop Green Global Color 2~5 every 1h |
| | Dark Sider (STR-INT) | DW-BlackRobber Den | Drop Chaos Silk 5~10 every 2h |
| | | | |
| | | | |
| | | | |
| | | | |
| | | | |
| | | | |
| | | | |
Server Info
---
PlayerOnline 582 / 2000
Server is :

ONLINE

Cap 130
Degree 14
Race CH/EU
Type PVE
Fortress War SOON
Auto Events Daily
Weekly Event Available
Max Plus 16 noAdv
PC (HWID) Limit 10
Guild Limit 32
Union Limit 2
Battle Arena Yes
Survival Arena Yes By Job
Wanted System Enabled
Honor System Yes By Job
Servertime
---
Servertime:

16:26:56

Fortresswar:
FW Register: Every Day
Next BA:
Honor System:
Madness Event:
Survival [Job]:
Special Trade:
The Roc:
Selkis - Neith:
Anubis - Isis: